Art on the Wall
Bar Harbor Savings and Loan honors the tradition of powerful art in our community with On the Wall,
a changing exhibition at the bank showcasing the work of local artists.

Paintings from the Strout Family Collection
June 2019-July 2019
When Raymond Strout was a school boy he saw an old photograph of Bar Harbor, and his life-long avocation for collecting was begun. Later he started buying paintings from artists who came for weekend plein air painting classes on Mount Desert Island in the 1950s. Photographs, old letters, signs, advertising art, memorabilia, they all tell a story.

Raymond has spent over fifty years gathering, organizing, and researching these pieces of Bar Harbor and Maine's past. Today his collection includes more than 500 works acquired from various sources including yard sales, estate auctions, and purchases from friends. He appreciates the thought and effort it took to make a painting, whether it's from a well-known artist or a weekend painter.

The proprietor of Ahlblad's Frame Shop in Bar Harbor since 1972, Raymond frames and mats many of the letters and prints he acquires, giving them a new life. Assisted by his sons Michael and Peter, they appraise each piece, and with an eye for color and form, preserve them for the future.
Left: untitled painting by unknown artist, untitled painting by A. Maxwell Leland, "Bass Harbor Light" by Howe D. Higgins

Beth G. Lambert: Plein-Air Oil Paintings of Coastal Maine
April 2019-May 2019
Beth's colorful expressive style is a result of deeply listening to what speaks to her when she goes outdoors to paint. She allows her mind and heart to empty and soften so she can paint directly from a place of spaciousness, capturing with color the experience of connecting to nature. She often returns to the same location and always wonders what she will notice anew in the fleeting experience of painting.

Beth earned her BFA in Studio Art from the University of Texas in Austin. She married and moved to Maine in 1981 and stayed home to raise three children. Then she returned to fulltime painting, and especially enjoys working close to her home in beautiful Manset. Her husband Ray makes all her wood panels and float frames.

Contact Beth: 207-244-8090 or bethglambert@gmail.com
Left: "Burst of June" and detail from "Tall Lupine" by Beth G. Lambert

Linda Rowell-Kelley: Paintings from MDI
January 2019-March 2019
A Mount Desert Island artist, Linda Rowell-Kelley lives and works on the Crooked Road in Bar Harbor. A life long student of the arts, she developed her vision and passion for the visual arts early in life and studied sculpture, painting, drawing, and graphics at the Portland School of Art, MECA (Maine College of Art). Linda works with canvas of all sizes, painting blended layers of color or using simple washes in oil, watercolor, and acrylic.

Contact Linda: 207-288-4311
Left: "Ferry Terminal," "Islands," and detail from "Red Rock Corner" by Linda Rowell-Kelley
ArtWaves Member Show
October 2018-December 2018
Nina Barufaldi-St. Germain
Margaret Beaulieu
Cristy Benson
Greg Mason Burns
Brian Caine
Liz Cutler
Carrie Eason
Janet Elvidge
Gabrielle Graham
Ed Hawes
Linda Rowell-Kelley
Left: detail from "Journey" by Cristy Benson, "Lollypop" by Carrie Eason, "Bass Harbor" by Janet Elvidge, and "After the Storm" by Gabrielle Graham

Nicole DeSimone
August 2018-September 2018
Nicole DeSimone studied painting in the figurative tradition at the Pennsylvania Academy of the Fine Arts in Philadelphia. Originally from New Jersey, Nicole has spent the better part of the last decade out west or on the move. She recently settled down on Mount Desert Island, to a lifestyle more conducive to painting and watching plants grow. Nicole currently teaches Beginner Drawing and Introduction to Oil Painting Classes and can be found working in her studio in Seal Cove, Maine.

For more information see nicoledesimonepaintings.com or contact Nicole at DeSimone383@gmail.com.
Left: "The Composer," "Ella in Yellow," and detail from "Somes Sound" by Nicole DeSimone

Amy Gagnon
June 2018-July 2018
Amy Gagnon grew up in rural central Maine, surrounded by forest, fields, and dairy cows. She has been painting for much of her life. Recently she has been working in oils and pen & ink, exploring the scenery of Downeast and Central Maine. Her work ranges from small illustrations to wall-size murals. She graduated from the University of Maine, Orono in 2007 with degrees in Horticulture and Studio Art. In school she took courses in drafting, landscape design, and botany–subjects which frequently show up in her work. She is also a member of the Guild of Natural Science Illustrators, a group which has connected her with artists, scientists and explorers. She currently lives in Bar Harbor with her partner Kevin and their greyhound, Joy. In her spare time she enjoys hiking, cooking, gardening, and playing traditional fiddle music.

For more information contact Amy at kitteryjean@gmail.com.
Left: Details from "Autumn at Northeast Creek" and "Birch at Otter Cove" by Amy Gagnon

Roc Caivano
April 2018-May 2018
Roc grew up in Tarrytown, New York, and began painting as a teenager. Since then, he has been painting and drawing during free time to this day. A graduate of Dartmouth College and Yale Architecture School, Roc answered an ad in The New York Times to start a program in Environmental Design at College of the Atlantic in 1974 and has designed and built buildings on Mount Desert Island ever since. He enjoys painting in watercolor, gouache, casein and oils from life, from photos, and most often from imagination. He is inspired by MDI and the great group of artists who love the island.
Left: "Sand Beach" and "Winter Sunrise" by Roc Caivano

Jean Forbes
January 2018-March 2018
Painting in watercolors has been a part of Jean's life from an early age. If weather permits she enjoys plein air painting and has taught several plein air watercolor classes on Mount Desert Island. When the weather turns cooler she paints in her studio using her photo files for reference. She is greatly influenced by her Maine surroundings. She enjoys capturing the light and colors of different times and moods of the day in her paintings of landscapes, seascapes, and harbor activities.

For more information visit Jean's website at jeanforbesart.com.
Left: "Heading Out at Sunrise," "Sunset Lopaus Point," and "Fish House" by Jean Forbes

Robin Rier
October 2017-December 2017
Robin Rier lives on the coast in Jonesport, Maine. The scenery provides endless opportunities for interpretation. "Working on location is an invigorating and engaging experience. The challenge to paint quickly before the light changes or the tide comes in presents a situation where I must look hard, see, and apply paint to the canvas. The process requires concentration and attention. I remind myself to breath and have fun. Nature is complex yet joyful and ever changing, therein lies the difficulty to be at ease all of the time. I allow myself to laugh. When my paintings transport a viewer to a new or forgotten place, or evoke a thought, this is my bonus." Robin's oil paintings carry a unique quality of color and peacefulness.

For more information visit Robin's website at robinrier.com.
Left: "Bill's Trees," "Jack's Garden, Sunflower," and "Birches, Indian River" by Robin Rier

Liddy Hubbell
August 2017-September 2017
Liddy Hubbell uses her art to convey complex concepts in ways which compel fresh observation and inquiry.

Her landscapes are designed to build associations between natural and built forms. They engage and challenge the viewer.

Rooted in her training in art and architecture at MIT, Liddy has a continued interest in the patterns of formal association and psychological exchange made between landscape, inhabitant, and viewer. She learned to see space and composition there and remains drawn toward dynamic transformations that build spatially from outcrops of anchoring forms.

She develops her work by making Asian brush paintings, meticulous ink drawings, and collages. These disciplines coalesce in the creation of landscape paintings which are specific, abstract, wild, and informed. Her compositions and use of color develop from that work and she is pleased when she captures some essential quality that she feels needs exploring. She makes art which reinforces the abstract and creative thinking that are hallmarks of engaged thinkers.

For more information contact Liddy at eliddy@gmail.com.
Left: "Park Street Sunrise" and "Shad" by Liddy Hubbell

Diana Roper McDowell
June 2017-July 2017
Diana explores both abstractionism and realism in art, and she works to combine the two art forms. The outline of her subject matter leans towards realism, but the shapes of color inside the subject, are abstract. She uses color and line to meld the two art forms together.

Half the time she spends creating a work of art is spent drawing. She uses this time to explore what interesting shapes it takes to make your eye move throughout the painting and pull the viewer in. Then she works with color to either solidify the realism, or give rise to more abstraction, depending on what works best to hold the viewer's interest.

As she paints, she finds the reality of the painting fades away, and we're left with abstract shapes of color within a recognizable form. Because they cannot be defined, these abstract shapes tend to shut down the viewer's internal dialogue and relax the mind in a wash of color and movement.
Left: "Five 0," "Hike on Norumbega," and "Provider" by Diana Roper McDowell

Images from the Strout Family Collection
April 2017-May 2017
Please contact Ahlblad's Frame Shop for sales and more information: 207-288-3126
Left: "Aerial photo of Somesville" Giclee print from the original negative taken by Luther Phillips, c. 1955

Kaitlyn Metcalf
January 2017-March 2017
Kaitlyn Metcalf was born and raised in New Orleans, Louisiana. She was raised on crawfish, po-boys, Bloody Marys, Jazz Fest and Mardi Gras. Kaitlyn was fortunate enough to be able to simultaneously attend Mount Carmel Academy and the New Orleans Center for Creative Arts, two of the best secondary schools in the city. After high school, this Southern Belle ventured north to further her art education, where she attended Maine College of Art in Portland. Kaitlyn graduated with Honors with a Bachelors of Fine Arts degree in Painting and a minor in Art History. She currently lives and works in Trenton, Maine.

Contact Kaitlyn: 207-479-4858, kmetcalf@meca.edu
Deborah Page
January 2017-March 2017
Although I have been creative my entire life, I only recently began giving serious time to exploring how paint, paper, fabric and other materials can come together to create something new and unique. I feel remarkably happy when I am in the process of playful exploration; most of the time I do not plan out my work, preferring to discover things as I go. Color, form, texture, line, and pattern come together to create something previously unknown. I find this process of creation both mysterious and compelling. When a new piece emerges, I learn something about myself: my inner life, my perceptions, and my relationships to the outer world come together in visible and tangible form.

Contact Deborah: 207-664-8595, arjaluth@gmail.com
Top: "Dockside Dinghies" by Kaitlyn Metcalf, middle: "Berry Still Life" by Deborah Page, bottom: "Teacup, Vase, Pear" by Deborah Page

ArtWaves Member Show
October 2016–December 2016
Liz Cutler
Nicole De Simone
Janet Elvidge
Jean Forbes
Ellen Kappas
Jane MacKeil
Deborah Page
Linda Rowell-Kelley
Roberta Sprague
Top: "Bar Island" by Linda Rowell-Kelley, middle: "Somesville" by Nicole De Simone, bottom: "Communicating the Landscape of the Esoteric" by Liz Cutler

Bob Jay – Acrylic Artist
August 2016–September 2016
"Thirty thousand miles of cycling, fifteen years of sailing and kayaking, many years of hiking, snowshoeing and cross-country skiing have all brought me close to nature. My creativity is fueled by the wonders of nature. The serenity of coastal marshes, the awesome power of the ocean, the beautiful mountains all fascinate me while the loss of our forests and farmlands concern me. Using painterly realism with a focus on detail, I am inspired to create my personal vision of a unique experience. I do not try to improve nature. I just want it to reflect a mental image created in my imagination. I incorporate established techniques and some less traditional, to achieve the light, colours, values, and hard and soft edges that I want." –Bob Jay
At 79 years of age, Bob Jay is a self-taught artist, painting for 10 ½ years. He came to Mount Desert Island as a biking and hiking tourist in 1986 and became a part-time resident 22 years ago. Art originally was a hobby in retirement. Bob uses his art now as a platform to express his love of the natural word, and his concern for its dwindling resources. Mount Desert Island, with its history of art and the celebrated Acadia National Park, is his favorite place on this planet.
Top: "Fascination" (detail), bottom: "Along Eagle Lake" (detail)

From Frogs and Flowers to the Forests and the Sea: What We Love about Acadia
June 2016–July 2016
Brenda Beckett
Nicole Herz
Meri C Fox-Szauter
Rocky Mann
Kathe McDonald
Kaitlyn Metcalf
Howie Motenko
Robert Packie
Tammy Packie
Cathy Rees
Michael C Rosenstein
Carol Shutt
These artists work in various mediums including quilting, photography, painting, ceramics, drawing, and printmaking all showcasing the beauty, wonder, and unique qualities that make Acadia National Park special to all of us.
Top: "Reflected Birches" by Howie Motenko, middle: "Wading" by Kaitlyn Metcalf, bottom: "Centennial Summer" by Carol Shutt

Woodblock Prints by Beth Pfeiffer
April 2016–June 2016
Woodblock printmaking is a process with many steps. Original drawings are reversed, multiple blocks carved, then printed in relief on a press or by hand. Mine is a haptic process, with knife strokes in the carved block as individual as my drawings and handwriting. My work explores the duality of combining the hand drawn and hand carved with the mechanism and multiplicity of printed output. I work both in western-style printing on a press using dry paper with oil or water-based inks, and in Japanese moku-hanga, printing by hand on wet paper with water-based pigments. I use exclusively hand-made Japanese paper (washi) and my printing press is a Takach Press.
Beth Pfeiffer lives and works in Southwest Harbor. Her childhood in rural Southern California and summers on Mt. Desert instilled closeness to nature that inspires her work. Her dual interest in process and creation brought her to printmaking. She holds a BA from Wellesley College and an MBA from Harvard Business School.
For more information contact Beth at beth.pfeiffer@gmail.com.
Paintings by Kathleen M. Frank
April 2016–June 2016
I grew up in Illinois and studied four years at the Art Institute of Chicago for my BFA, where I developed a taste for Surrealism. De Chirico and Magritte among others were inspirational. The techniques and subject matter of the printmaker M. C. Escher also worked their way into my themes at that time. I have never given up on Surrealism and I am sure it will work its way into my landscapes.
Over the past ten years the subject matter of my paintings has changed from studio painting of the figure and still life to the landscape. I currently draw inspiration for my present ideas from walks with my dog through the woods near my home. There are wonderful opportunities even in the bottom of one's rock garden (you don't have to go far) and from my admiration for the works of Neil Welliver and Alan Bray.
For more information contact Annette Carvajal at mcpacadia@gmail.com.
Top: "Molecular Mandala I" by Beth Pfeiffer, center: "Cracked I" by Kathleen M. Frank, bottom: "Blue Ledge" by Kathleen M. Frank

Selections from "Island Quilters"
June 2016–March 2016
Carolyn Drew
Sue Graff
Mary Booher
Annie Diano
Michele Daley
Kathe McDonald
Elizabeth Hall
Edie Stanwood
Mary Vekasi
Shelia Smallidge
Leigh Ann Sheeley
Top: "Deer at Dusk" by Leigh Ann Sheeley, bottom: "More Than Four" by Mary Vekasi
Explorations in Fabric
October 2015–December 2015
Jeanne Seronde Perkins
Born and raised in New England, Jeanne Seronde Perkins has been living and making art on Mt. Desert Island for over thirty years. She exhibits in Maine as well as other states in the U.S. and abroad. Her work is in over 100 private collections. She also leads workshops for children and adults in watercolor, silk painting and collage in 2 and 3D.
Please contact Jeanne at: 288-4591
Leanne Nickon
Originally from Maryland, Leanne Nickon has lived on MDI since 1984. She has loved drawing and painting since childhood, and has been painting on silk for over 20 years. Leanne has sold her silk scarves, pillows and wall hangings at craft shows and galleries throughout New England, and teaches silk painting to adults and children. She also makes cards and collages.
Please contact Leanne at: 288-8361
Shira Singer
I have been working with cloth for many years and am increasingly drawn to the exploration of color, pattern and shape, how they intersect and overlap. Most often, I work on white silk or cotton. Using dyes and textile paints, I apply layers of color and pattern to the surface of the cloth. Some of the many methods I use include painting, block printing, screen printing, marbling, resist-dyeing and different types of fabric embellishment, such as beadwork, embroidery, foiling and quilting.
I enjoy making art with people of all ages and have taught art in local elementary schools and summer programs as well as in programs offering textile design workshops for adults. I also work in private practice as an art therapist.
For any art related inquiries you may contact me at: 207-288-8054 or shirajoys.com
Top: "Summer Light" by Leanne Nickon, center: "You Never Know" by Shira Singer, bottom: "Space Age" by Jeanne Seronde Perkins

Hooked Rugs
August 2015–September 2015
Mary Hays
Mary is self-taught and works from her own photos using only simple sketches as guides.
Rosemary Levin
Rosemary's studio and gallery, featuring hooked works by Rosemary, hand dyed wool and rug hooking supplies, is located at Chapter Two, 611 Corea Road, in the Schoodic Peninsula village of Corea, Maine. Rosemary's studio and gallery, featuring hooked works by Rosemary, hand dyed wool and rug hooking supplies, is located at Chapter Two, 611 Corea Road, in the Schoodic Peninsula village of Corea, Maine. Her work can be found on line at www.chaptertwocorea.com.
Karen McFarland
By creating her own designs, she found an outlet for expressing her love of nature on Mt. Desert Island as well as other interests. She seems to be able to "draw" with wool more easily than a brush or pencil. She also dyes a lot of her own wool and enjoys the contrasts of colors.
Top: At the Point, Rosemary Levin Bottom: Mary Hays, Home Port

Oil Paintings by Barbara Strubell
April 2015–June 2015
Born and educated in Connecticut, Barbara supported herself as a hairdresser. She moved to Maine in the late 70's, being a she lived and worked in Maine driving trucks and working construction for the MDOT for several years before opening Artful Designs Hair Care at Southwest Harbor Shoppes in 1984. Barbara started painting seriously in 2008 after a long hiatus from art to raise my daughter.
Realism is her style now and she is looking forward to exploring abstract art. She hopes to be able to express herself through painting. She says, "I love to paint and am finding the more I paint and learn, the more excited I get about it."
You can find her on the web at www.barbarastrubellart.com
Oil and Watercolor Paintings by Theolyn Gilley
April 2015–June 2015
Theolyn Gilley was born and raised on MDI. As the daughter of a fisherman, she spent all of her young life on or around the water. A self-taught artist, Theolyn draws her inspiration from the beauty and nobility of the Island Communities. It was in these communities that generations of Theolyn's family earned their living from the sea. Much of her work includes scenes from the small outer islands, which hold a special magic that she sees and expresses in her art.
Top: Barbara Strubell, Woodland Light DetailBottom: Theolyn Gilley, Rocks with Shell

Recent paintings on MDI by Roc Caivano
January 2015–March 2015
Roc Caivano was born in 1944. He has lived on MDI since 1974. All, but one, of these featured paintings are of scenes on MDI.
Garden Portraits by Dayelle Swensson
January 2015–March 2015
Dayelle Swensson enjoys recording the natural beauty of the surroundings that give her and other gardeners endless pleasure and interest. Each painting conveys an expression of the joy that went into building a particular garden display. Combining her love of gardening with her painting technique, a lasting momento of the blossoming energy is created to treasure long after the plants have bloomed and transpired.
How does Garden Portraits work? When you know your garden will be looking the way you are hoping it will, contact Dayelle. She will come take photographs, do some sketches, and discuss with you what you would like to have in your painting. She also works from already existing photographs you may have. A painting is created to the size and shape you desire in order to fit the place where you want it to hang. The portrait can be a whole gardenscape or just a small portion of the overall garden. A painting of a friend's garden also makes a wonderful treasured gift. Please call 801-9059 to make an appointment to discuss what is desired.
Top: Roc Caivano, Winter Light Bottom: Dayelle Swensson, Hostas with Friends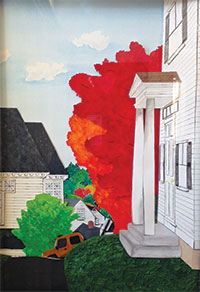 George Stevens Academy Collection
October 2014–December 2014
The collection was begun thirty-five years ago by art teacher Katie Greene. The goal was to honor, preserve, and exhibit significant student works created as part of George Stevens Academy classes.
Over the years, as the Collection has grown, students and visitors to the Academy have enjoyed the extraordinary spectrum of student art, in hallways, administrative offices, and the school's library. The Collection is a proud testament to, and celebration of, the artistic achievement of George Stevens Academy's students.
Julia Friend, Class of 2004,View From the Academy, foamboard, paper, and acrylics.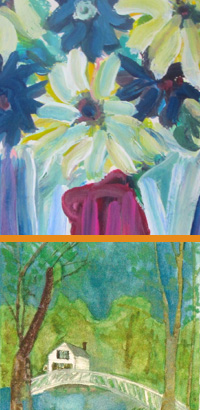 An Eclectic Mix of Media and Subjects
August 2014–September 2014
Beth Pfeiffer
James Wolf
Katherine Noble Churchill
Annette Carvajal
George Soules
Ben Lincoln
Howie Motenko
Nicole Herz
Kathleen Frank
Tamie Packie
Naomi Champlin
Avy Claire
Roberta Sprague
Robert Goodman
Jeanne Seronde Perkins
Robert Goodman's Summer Bouquet: Detail and Naomi Champlin's Somesville Bridge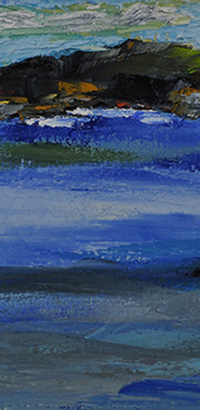 Oil Paintings by A. J. Bueche
June 2014–July 2014
"Abstract art is distilled or derived from something and brought to a more essential level. Abstract art can be an insight into the aspects of feeling or emotion pulled from a presence. That presence can be based in realism or it can be solely intellectual. The plasticity of paint allows for the addition and subtraction of innumerable variances in form and color to reach the level needed to approach a level of success.
Creating a painted surface that may or may not be replicative and may take the obvious to a deeper emotion or thought pattern is my intent. Light, color and image combine to create the "abstraction" with relevance and impact at various levels." –A. J. Bueche
Shoreline: Detail

Photographs by Michael Rindler
June 2014–July 2014
Michael Rindler is an accomplished nautical, landscape, and vintage automobile photographer with a profound appreciation for the art of Maine boats and scenes.
The nature of Maine light is uniquely pure. Maine boats in this special light are full of grace and beauty found nowhere else. Michael uses the stillness of early morning and late afternoon to capture the elegance of Maine working and pleasure boats and local landscapes. His photographs reflect an exclusively personal perspective and an abstract quality rarely present in nautical and landscape photography.
Michael also applies his eye for artistic detail in creating one-of-a-kind images of vintage automobiles. His close up photographs highlight the wonderful colors, shapes, and textures abundant in these classics.
Michael lives in Southwest Harbor, Maine. On many early mornings, he can be found capturing images of Maine boats from his wooden Ralph W. Stanley rowing boat. Michael's photographs are made with Leica digital cameras and are not enhanced, modified, or manipulated. Michael Rindler's photographs reside in private collections throughout the United States. michaelrindlerphotography.com 207-244-3141
Pink in the Pool: Detail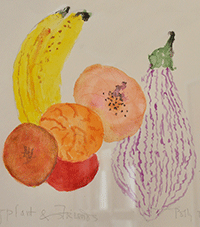 Watercolors by Polly Doyle
April 2014–May 2014
Polly Doyle, painter and printmaker, was born in Bar Harbor, Maine. She attended Tufts University and the School of the Museum of Fine Arts, Boston from 1948-1955. She is the widow of Professor Aaron Fleisher of M.I.T. Together they have a son and daughter.
For inquiries about Polly Doyle's work, please contact her daughter, Ann Fleisher at 857-413-7303
Eggplant and Friends

Assemblages by Charly Weir
April 2014–May 2014
Like so many women before me, I did not start my artful career until in my fifties. At first, I did not take it very seriously and would laugh when people actually bought the "oar stuck on a board" or the "croquet balls in a box." But then I started getting interesting feedback, that it was creative and thoughtful art. I guess I was surprised that it "was" art.
My creative process continues to go through different stages. I have the women's art, the anger art, the funny art, the religious art, the Maine folk art…It depends on what I feel like on that particular day or an issue I want to confront. Of course it also depends on what pieces I have to play around with. It isn't like painting a picture with paint on a canvas, I have to wait until I find the perfect "thing" and then think about what it can/will be and what it will release in me.
My garage studio is a haven for mismatched objects waiting their turn to be reinvented. I collect interesting things of rust, color, patina, small, large, noisy, dirty and often have to walk sideways to get around. I have no time for fine joinery, measuring or exactness and always have to keep in mind the possibility of the actual assembly and attachment. Very often, what is pictured in my mind can't be stuck together easily, so it changes. My style is really "simplicity" as I use as few pieces as possible to make the point. If I find myself getting too stuck in details, I back off and find another way around or end it completely. I usually have three or four projects going at the same time. I couldn't live without my cordless drill.
As I am supposed to be writing a "bio," well, I never went to art school and frankly did not do well in art class in regular school. I took a couple of classes at the Rockport School of Craftsmanship and am thankful to have learned how to use hand and power tools.
When I first started creating these "masterpieces," I would sell them at the Big Chicken Barn. It gave me a reason to create and kept me at it. Everything I make isn't going to be "gallery worthy," I still need to make the fun and crazy things. So, I'm back there selling birdhouses and other folk art. The rest, for now, is crowding the walls of my house. I plan to open my studio in Bass Harbor on occasions this summer, but am open to visitors with appointments.
Large Angel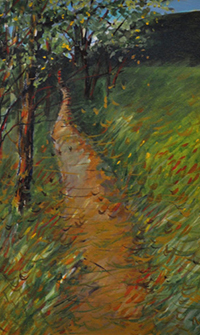 Paintings by Linda Rowell-Kelley
January 2013–March 2014
My acrylic, oil, watercolor and egg tempera paintings reflect the settings in Maine that I love. It is a wonderful inspiration to live on Mount Desert Island, with our filling and emptying of people, varied weather conditions and views of water, cliffs, and open spaces to draw on. Living on the Crooked Road beside a dairy farm is a blessing. I am able to stop and look out at the open fields spotted with cows and apple trees on my way down the path to my studio. Much of my painting is on canvasses of all sizes inspired from the northern woods of Maine, the downeast coast and annual summer sabbaticals to Monhegan Island. My love of painting extends to tables, chairs, clothes pins and any other object nailed and not nailed down. Born in Keene, New Hampshire, I developed my vision and passion for art early on. I studied sculpture, painting and graphics at the Portland School of Art. –Linda Rowell-Kelley
Facebook: Linda Rowell-Kelley Art
Smithfield Square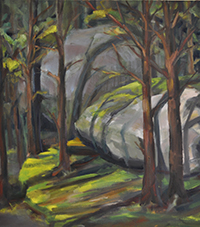 Oil Paintings by Liz Culter
November 2013–January 2014
My paintings are all inspired by some sort of spark, something that wows me or quietly invites me to linger. Typically my spark is an area of contrast, and aren't we all innately attracted to some degree of distinction or differentiation? I avoid tension and harshness in life but have learned that there is a delicious tension; an inherent beauty and balance to including both within my work. I love capturing and maintaining that spark, relating it to the balance of my painting and playing with how much more I need to give. –Liz Cutler
Boulders at Haystack